Gagne l'album hommage à George Harrison : George Fest
En 2001, George Harrison nous quittait. Quinze ans plus tard, son fils Dhani a voulu lui rendre hommage en invitant une tripotée d'artistes à venir reprendre son répertoire. Ca s'est passé le 28 septembre 2014, au Fonda Theater de Los Angeles. Comme techniquement c'est pas Près de Chez Toi, on a pas pu t'inviter. Pour se rattraper, on te fait gagner le double CD/DV du concert, George Fest, paru le 26 février dernier (le lendemain de l'anniversaire du plus jeune membre des Beatles).
Pour te mettre un peu l'eau à la bouche, voici la liste des participants à ce concert George Fest: A Night To Celebrate The Music Of George Harrison ! Parmi les héros musicaux de Dhani Harrison, on retrouve : Ben Harper, Norah Jones, Brian Wilson des Beach Boys, Nick Valensi des Strokes, les Black Rebel Motorcycle Club, mais aussi Cold War Kids, The Flaming Lips, Britt Daniel de Spoon, Brandon Flowers des Killers… En tout, une vingtaine d'artistes, qui ont en fait appris la musique au travers des tablatures de guitare des Beatles ! Avec des interprétations inattendues !
Sur la vidéo, c'est Brandon Flowers, Norah Jones, Wayne Coyne, Britt Daniel, « Weird Al » Yankovic, Dhani Harrison et Jonathan Bates qui reprennent ensemble 'Handle With Care' !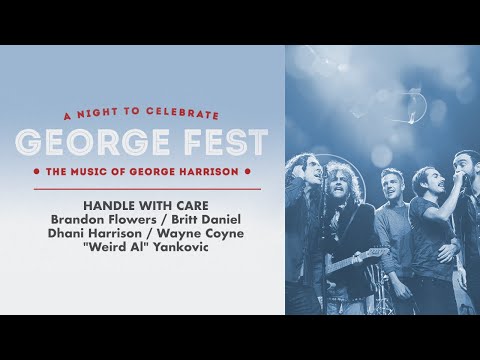 Et pour gagner l'album George Fest: A Night To Celebrate The Music Of George Harrison, poste une vidéo de George Harrison !
La manip est simple :
1 Se créer un compte sur Facebook – comment ça c'est déjà fait ?
2 Devenir fan du Transistor – donc ça aussi c'est réglé !
3 Poster sur le wall du Transistor une vidéo de George Harrison
Le concours se finit le vendredi 11 mars à 13h59 !
Remerciements : Marion [Ephélide]
Catégorie :
Près de chez toi
Artiste(s) :
Ben Harper
,
Black Rebel Motorcycle Club
,
Brandon Flowers
,
Brian Wilson
,
Cold War Kids
,
Dhani Harrison
,
George Harrison
,
Jonathan Bates
,
Norah Jones
,
Spoon
,
The Flaming Lips
,
The Strokes
,
Wayne Coyne
,
Weird Al Yankovic