Noel Gallagher's High Flying Birds au Zénith
Dans la grande bataille britpop qui opposait Liam et Noel Gallagher, le grand frère est le grand gagnant des fans d'Oasis. En effet, après deux albums de Beady Eyes, Liam Gallagher a jeté l'éponge, tandis que Noel présente son nouvel album Chasing Yesterday avec les High Flying Birds dans un Zénith affichant complet. Le match est fini, et Noel Gallagher s'auto-déclare vétéran de la pop. Sauf qu'à viser l'Olympe, on atterrit souvent au panthéon.
Afin de capter l'attention, un orgue monte, annonçant 'If I Had a Gun', alors que les lumières sont encore allumées. Sur un break de batterie, les musiciens arrivent nonchalants sur scène. Après 'Do The Damage', Noel Gallagher vêtu de cuir et d'une grosse guitare rouge, commence par reprendre des morceaux de son premier album. Rapidement, on se laisse porter par les ballades dont il a le secret comme 'Standed On The Wrong Beach' et 'Everybody's on the Run', puis on revient à plus de subtilité avec 'Fade Away', une B-side du premier album d'Oasis, Definitely Maybe.
Après un plus qu'efficace 'In The Heat of the Moment', aux nanana plus qu'accrocheurs, Noel Gallagher prévient la foule qu'il y aura du saxo sur ce « putain de morceau », alias 'Riverman'. Car le grand frère Oasis a décidé sur cet album Chasing Yesterday de délaisser la pop folk et d'explorer les styles qui lui ont plu au court des dernières décennies, des Pink Floyd aux Smiths en passant par David Bowie.
Quand il oublie de parler foot avec son public, Noel Gallagher avoue chanter les yeux fermés pour l'émouvante 'Champagne Supernova' qui prendra tout le monde de court. On se régale par la suite d'une 'We Can't Go Back' criante d'influence Oasis, et d'autres imparables comme 'Ballad of the Mighty I' ou 'Dream On'. Et s'il n'a pas la voix d'un leader – à se louper sur la fameuse 'The Death of You and Me', le compositeur a tout de même vu les choses en grand pour ce Zénith, avec carrément une section cuivre.
Sauf qu'au bout d'un moment, le concert semble un peu tourner en rond. Etant donné que Noel Gallagher n'a plus rien à prouver puisqu'il est le seul survivant de cette guerre qui n'amusait plus que lui, le vétéran ne se remet plus en question… et ses ballades se suivent et se ressemblent. 'The Dying Light' est très agréable, mais ne laisse qu'un souvenir éthéré, cette douceur – réitérée sur d'autres 'Aka Broken Arrow'- détend, mais donne envie de sombrer gentiment dans une somnolence.
Heureusement des reprises de son ancien groupe sur 'Digsy's Dinner', 'The Masterplan', et surtout 'Don't Look Back in Anger' donneront une tournure réellement épique à ce concert.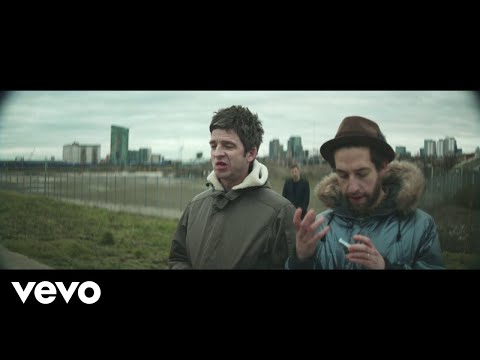 Réclame
Lire le live report de Noel Gallagher's High Flying Bird au Casino de Paris
Remerciements : Claire et Jennifer [PIAS]
Catégorie :
A la une
,
Concerts
Artiste(s) :
High Flying Birds
,
Noel Gallagher
Salle(s) :
Zénith de Paris
Production(s) :
PIAS
Ville(s) :
Paris