Black Rebel Motorcycle Club à l'Elysée Montmartre
Les Black Rebel Motorcycle Club n'ont pas encore sorti leur huitième album, Wrong Creatures, qu'ils sont déjà sur les routes pour allécher leurs fans avec les quatre singles parus. Pour ce passage à l'Elysée Montmartre, les fans étaient au rendez-vous et ont été servis ! Puisque le trio leur a offert deux heures de concert bien rodé, avec au menu, un medley de tous leurs meilleurs singles !
Black Rebel Motorcycle Club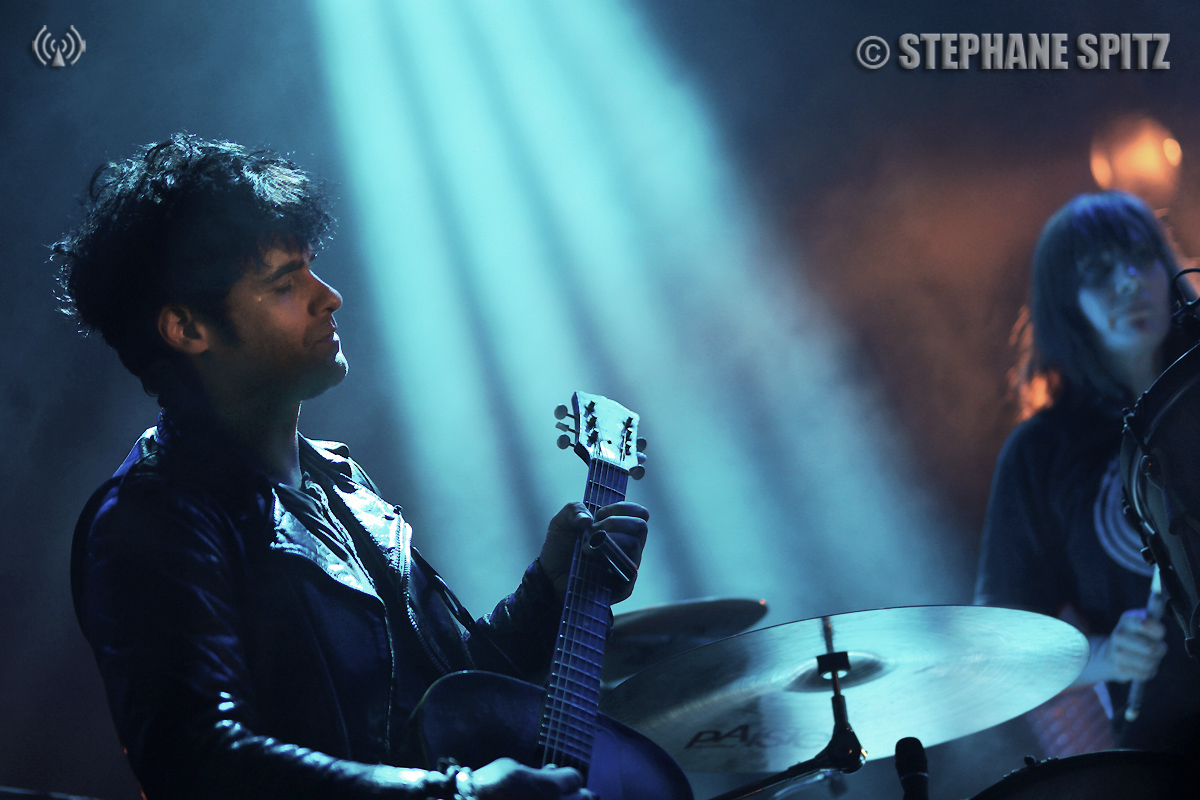 Robert Turner démarre sur 'Little Things Gone Wild', un tout nouveau single, pendant que Peter Hayes s'active sur ses toms basses pour soutenir Leah Shapiro. Un bonsoir, et sans crier gare, Black Rebel Motorcycle Club balance coup sur coup 'Beat The Devil's Tatoo' et 'Ain't No Easy Way'. Un démarrage pour les chapeaux de roues, qui permet d'enchaîner sur le nouveau single, très militaire, 'King of Bones'.
Bientôt, Robert Turner est à genoux, encouragé par la foule, pour incarner son 'Conscience Killer'. Puis sur le plus langoureux 'Haunt', tiré du Wrong Creature, le guitariste se fait plus langoureux, tout en gardant le pied sur la pédale pour faire crisser ses riffs. Les filles sont désormais mûres pour monter sur des épaules afin de ne pas en perdre une miette, pendant que d'autres organisent les pogos pour 'White Palms'.
On se laisserait bien prendre par 'Carried From The Start', mais les lumières se rallument souvent sur le public, lui faisant prendre soudainement conscience qu'il est dans une salle de concert… et non pas ailleurs, en train de prendre son pied.
Après les solos de Robert Turner sur 'The Line', et Peter Hayes sur 'Complicated Situation' à l'harmonica, la batterie fait son grand retour sur 'Shuffle Your Feet'. Et Robert reprend son corps à corps avec son instrument sur 'Bandung Hum'. La foule s'impatiente légèrement, car Black Rebel Motorcycle Club prépare son final… qui arrive avec 'Spread Your Love' ! La salle frémit alors pour le rappel, qui culminera avec une excellente version de 'Whatever Happened To My Rock'n'Roll (Punk Song)'.
Remerciements : Karen [Live Nation]
Catégorie :
A la une
,
Concerts
Artiste(s) :
Black Rebel Motorcycle Club
Salle(s) :
Elysée Montmartre
Production(s) :
Live Nation
Ville(s) :
Paris